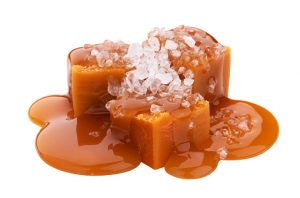 Gezouten karamel is een heerlijke lekkernij die vaak gegeten word over of bij bijvoorbeeld een stuk taart, ijs, en nog veel meer. Dit is ook de reden waarom het zo populair is en de kans is zeer klein dat je dit nog nooit gegeten hebt, Karamel komt overal voor in verschillende soorten, Bij dit recept hebben wij gekozen voor gezouten karamel, Der is namelijk niks lekkerder dan een heerlijke saus van karamel die zo lekker weg smelt op je tong en waarbij ook nog is wat zout vrijkomt! Haal alles in huis en kook lekker met ons mee!
Wat heb ik nodig voor gezouten caramel?
200 gram suiker
100 ml water
90 gram roomboter, ongezouten
125 ml slagroom
1/2 tl zout
Hoe maak je de gezouten karamel?
1 Doe de suiker in een steelpan en bedek met het water, verhit op een laag vuur. Verhit de pan tot het begint te pruttelen en langzaam van kleur verandert.
2 De karamelsaus moet een mooie bruine/oranje kleur krijgen. Duurt het lang of word de saus niet bruin? Probeer dan eens het vuur wat hoger te zetten. Let wel op dat het niet ineens super snel gaat en hij verbrand, Als dit gebeurd moet je opnieuw beginnen.
3 wanneer de saus bruin is voeg je de boter bij, blijf langzaam roeren tot 1-2 minuten Voeg langzaam de slagroom toe. Blijf maximaal minder dan een minuut roeren tot het er lekker door heen zit. Het vuur mag uit.